About Us
Khans Takeaway (NEW) is a Indian takeaway in Liverpool. Why don't you try our Fried Scampi or Dupiaza?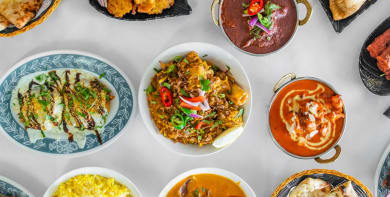 Reviews
188 reviews
John
"Excellent value and quality"
10/06/2021
Irene
"Food always beautiful"
10/06/2021
Samantha
"Food was really tasty and delivered piping hot . Would definitely recommend !"
17/05/2021
Roy
"Excellent service and quality of food big portion s"
15/05/2021
Menu
Create Your Own Set Meal For 2
Starter
2 Poppadoms
Onion & mango chutney
Any 2 starters
Main Course
Any 2 main meal
Side Dish
1 Side dish
Pilau rice
Nan & chips
£32.15
Portion of Poppadom Plain
£1.35
Portion of Poppadom Spicy
£1.60
Tandoori Lamb Chops Starter (3)
£4.90
Quarter Tandoori Chicken Starter
£3.50
Tandoori Wings Starter (5)
£4.60
Tandoori Chicken Tikka Starter
£3.40
Tandoori Lamb Tikka Starter
£4.00
Tandoori King Prawn Starter
£4.90
Mixed Starter
Chicken tikka, lamb tikka, seekh kebab & tandoori wings
£4.60
House Special Starter
Seekh kebab, chicken tikka, lamb tikka, onion bhaji & samosa
£4.85
Chicken Tikka Chilli Puri
£3.60
Tandoori Mixed Grill
Chicken tikka, lamb tikka, seekh kebab & tandoori chicken
£9.00
Tandoori Shashlik Chicken Tikka
These dishes are prepared in the clay oven with grilled onions, mixed peppers, tomatoes blended with special masala sauce. Served with fresh salad & choice of curry sauce
£8.55
Tandoori Shashlik Lamb Tikka
These dishes are prepared in the clay oven with grilled onions, mixed peppers, tomatoes blended with special masala sauce. Served with fresh salad & choice of curry sauce
£9.55
Tandoori Shashlik Mixed Shashlik
These dishes are prepared in the clay oven with grilled onions, mixed peppers, tomatoes blended with special masala sauce. Served with fresh salad & choice of curry sauce
£9.70
Tandoori Shashlik Tandoori King Prawn
These dishes are prepared in the clay oven with grilled onions, mixed peppers, tomatoes blended with special masala sauce. Served with fresh salad & choice of curry sauce
£11.50
Delight Chicken Tikka
Marinated chicken tikka or lamb tikka or king prawn grilled on skewer & cooked in an exotic mild sauce with almonds, coconut, butter & mango
£7.75
Delight Lamb Tikka
Marinated chicken tikka or lamb tikka or king prawn grilled on skewer & cooked in an exotic mild sauce with almonds, coconut, butter & mango
£7.75
Delight Tandoori King Prawn
Marinated chicken tikka or lamb tikka or king prawn grilled on skewer & cooked in an exotic mild sauce with almonds, coconut, butter & mango
£11.00
Achari Naga Chicken Tikka
Cooked in a hot strength sauce with fresh herbs, red & green peppers, Indian hot chilli pickle & garnished with fresh coriander
Hot
£7.75
Achari Naga Lamb Tikka
Cooked in a hot strength sauce with fresh herbs, red & green peppers, Indian hot chilli pickle & garnished with fresh coriander
Hot
£7.75
Akbari Cham Cham Chicken Tikka
This is a dish of mild strength using selected herbs, almond powder, almond flakes, Indian butter & fresh cream to satisfy the masala lovers
£7.75
Akbari Cham Cham Lamb Tikka
This is a dish of mild strength using selected herbs, almond powder, almond flakes, Indian butter & fresh cream to satisfy the masala lovers
£7.75
Garlic Chicken Tikka Lemon
Chicken tikka combined with fresh garlic, lemon, green chilli, moderately hot dish giving a sharp spicy taste
£7.75
Shatkora Chicken Tikka
An aromatic dish cooked with Bangladeshi citrus fruit, tomato, garlic & chillies
Medium
£7.75
Shatkora Lamb Tikka
An aromatic dish cooked with Bangladeshi citrus fruit, tomato, garlic & chillies
Medium
£7.75
Fish Tikka Masala
Fish tikka cooked with fresh garlic, ginger, green chillies & an exotic mixed of spices of create a hot sharp
Fairly Hot
£7.75
Special Mixed Bhuna
Chicken tikka, lamb tikka, tandoori chicken & seekh kebab cooked with onions, tomato & coriander
Medium
£9.40
Nepale Masala Chicken Tikka
A hot dish cooked with Nepal chilli sauce
Fairly Hot
£7.75
Nepale Masala Lamb Tikka
A hot dish cooked with Nepal chilli sauce
Fairly Hot
£7.75
Dhanya Chicken Tikka
Cooked in thick spicy sauce with spring onions, coriander, garlic & ginger, garnished with tomato, green peppers & green chillies
Fairly Hot
£7.75
Dhanya Lamb Tikka
Cooked in thick spicy sauce with spring onions, coriander, garlic & ginger, garnished with tomato, green peppers & green chillies
Fairly Hot
£7.75
Special Bhuna Masala
Chicken tikka, lamb tikka & tandoori king prawn, cooked in a special bhuna masala sauce with ground almonds
Medium
£8.75
Dhal Chicken
Cooked with lentils in a medium spiced sauce, fresh coriander & garlic
Fairly hot
£7.75
Dhal Lamb
Cooked with lentils in a medium spiced sauce, fresh coriander & garlic
Fairly hot
£7.75
House Special
A piece of tandoori chicken, tender pieces of lamb tikka, cooked with lamb mince meat & mushroom
Medium
£8.85
Murugh Masala
Cooked together with minced meat in a medium chef`s spice, garnished with ginger, coriander & omelette. A delightful, satisfying dish
Medium
£8.85
Balti Exotica
A combination of tandoori chicken, chicken tikka, lamb tikka & king prawn cooked in medium spiced balti, authentically prepared with fresh herbs & spices
Medium
£8.85
Chicken & Cheese Kufta
Boneless chicken marinated in yoghurt, herbs & spices, cooked with meat balls & cheese, medium sauce
£8.85
Balti Peshwari Chicken Tikka
Cooked with spices in a buttered sauce with almonds raisins & authentically prepared balti sauce
£8.85
Balti Peshwari Lamb Tikka
Cooked with spices in a buttered sauce with almonds raisins & authentically prepared balti sauce
£8.85
Garlic Jafrani Chicken Tikka
Preparation of special garlic sauce, fresh ginger, green chillies, tomato decorated with green peppers & sprinkled coriander, a spicy hot dish
Fairly Hot
£8.85
Garlic Jafrani Lamb Tikka
Preparation of special garlic sauce, fresh ginger, green chillies, tomato decorated with green peppers & sprinkled coriander, a spicy hot dish
Fairly Hot
£8.85
Chilli Chingri
Whole tiger prawns stir fried in an aromatic mixed spices with capsicum, spring onions, green chillies, ginger, soya sauce, tabasco sauce & garnished with fresh coriander
Fairly Hot
£11.00
Special Garlic Chicken
Medium dish cooked with chicken tikka in a fresh garlic sauce with capsicum, tomato, fresh coriander in our chefs special sauce
Medium
£7.75
South Indian Garlic Chilli Chicken
Very spicy cooked with onions, deep fried garlic in a thick sauce
Fairly Hot
£7.75
Saagwala Chicken
Cooked with spinach in a medium to hot sauce
Medium
£7.75
Saagwala Lamb
Cooked with spinach in a medium to hot sauce
Medium
£7.75
Makon Chicken Tikka
Cooked in butter flavour with golden roasted almond and ground spice with a touch of honey
£7.75
Makon Lamb Tikka
Cooked in butter flavour with golden roasted almond and ground spice with a touch of honey
£7.75
Garlic Chicken Tikka Shahee
Medium dish cooked with chicken tikka, minced lamb in a spiced sauce, a highly flavoured dish with fresh garlic
Medium
£7.75
Passanda Chicken Tikka
Specially selected herbs & mild spices are combined with almond powder & yoghurt, fresh cream in added to create a mild rich taste
£7.75
Passanda Lamb Tikka
Specially selected herbs & mild spices are combined with almond powder & yoghurt, fresh cream in added to create a mild rich taste
£7.75
Muglai Chicken Tikka
Cooked with almonds a really creamy dish, garnished with an omelette
£8.10
Muglai Lamb Tikka
Cooked with almonds a really creamy dish, garnished with an omelette
£8.10
Jhali Bhuna Chicken Tikka
Cooked with special herbs, onions, green chillies, tomato & capsicum, fairly hot
Fairly Hot
£8.20
Jhali Bhuna Lamb Tikka
Cooked with special herbs, onions, green chillies, tomato & capsicum, fairly hot
Fairly Hot
£8.20
Bangla Chicken Tikka
Strips of chicken or lamb tikka, stir fried with fresh green chillies, ginger, garlic & onions, red & green peppers, give this an authentic appearance
Fairly Hot
£8.20
Bangla Lamb Tikka
Strips of chicken or lamb tikka, stir fried with fresh green chillies, ginger, garlic & onions, red & green peppers, give this an authentic appearance
Fairly Hot
£8.20
Balti Chicken Nawabi
Chicken tandoori breast cooked minced meat, onions, peppers, tomato & spices in a balti sauce
Medium
£8.20
Garlic Chicken Tikka Madras
Fairly hot dish cooked with chicken tikka in a medium sauce with garlic
Fairly Hot
£7.75
Achari Chicken Tikka
Cooked with touch of garlic, fresh coriander, onion, peppers, tomato & Indian pickle
Fairly Hot
£7.75
Achari Lamb Tikka
Cooked with touch of garlic, fresh coriander, onion, peppers, tomato & Indian pickle
Fairly Hot
£7.75
Bombay Chicken Tikka
Chicken or lamb tikka cooked with special bombay sauce with fresh coriander, green chilli, potato & omelette
Fairly Hot
£7.90
Bombay Lamb Tikka
Chicken or lamb tikka cooked with special bombay sauce with fresh coriander, green chilli, potato & omelette
Fairly Hot
£7.90
Butter Chicken
Mildly spiced curry with cream & garnished with butter
£8.10
Karahi Vegetable
A medium cooked in a thick sauce with onions, green peppers, tomatoes & selected spices, garnished with fresh coriander
Medium
£6.70
Karahi Chicken
A medium cooked in a thick sauce with onions, green peppers, tomatoes & selected spices, garnished with fresh coriander
Medium
£6.85
Karahi Keema
A medium cooked in a thick sauce with onions, green peppers, tomatoes & selected spices, garnished with fresh coriander
Medium
£7.20
Karahi Prawn
A medium cooked in a thick sauce with onions, green peppers, tomatoes & selected spices, garnished with fresh coriander
Medium
£7.30
Karahi Chicken Tikka
A medium cooked in a thick sauce with onions, green peppers, tomatoes & selected spices, garnished with fresh coriander
Medium
£7.65
Karahi Lamb
A medium cooked in a thick sauce with onions, green peppers, tomatoes & selected spices, garnished with fresh coriander
Medium
£7.80
Karahi Mixed
A medium cooked in a thick sauce with onions, green peppers, tomatoes & selected spices, garnished with fresh coriander
Medium
£8.40
Karahi Lamb Tikka
A medium cooked in a thick sauce with onions, green peppers, tomatoes & selected spices, garnished with fresh coriander
Medium
£8.50
Karahi Tandoori Mixed
A medium cooked in a thick sauce with onions, green peppers, tomatoes & selected spices, garnished with fresh coriander
Medium
£8.70
Karahi King Prawn
A medium cooked in a thick sauce with onions, green peppers, tomatoes & selected spices, garnished with fresh coriander
Medium
£11.00
Balti Vegetable
Cooked with green peppers, onions & a unique blend of medium spices
Medium
£6.70
Balti Chicken
Cooked with green peppers, onions & a unique blend of medium spices
Medium
£6.85
Balti Keema
Cooked with green peppers, onions & a unique blend of medium spices
Medium
£7.20
Balti Prawn
Cooked with green peppers, onions & a unique blend of medium spices
Medium
£7.30
Balti Chicken Tikka
Cooked with green peppers, onions & a unique blend of medium spices
Medium
£7.65
Balti Lamb
Cooked with green peppers, onions & a unique blend of medium spices
Medium
£7.80
Balti Mixed
Cooked with green peppers, onions & a unique blend of medium spices
Medium
£8.40
Balti Lamb Tikka
Cooked with green peppers, onions & a unique blend of medium spices
Medium
£8.50
Balti Tandoori Mixed
Cooked with green peppers, onions & a unique blend of medium spices
Medium
£8.70
Balti King Prawn
Cooked with green peppers, onions & a unique blend of medium spices
Medium
£11.00
Jalfrezi Vegetable
Cooked with onions, fresh green peppers & green chillies & a hot & highly flavoured texture
Fairly Hot
£6.70
Jalfrezi Chicken
Cooked with onions, fresh green peppers & green chillies & a hot & highly flavoured texture
Fairly Hot
£6.85
Jalfrezi Keema
Cooked with onions, fresh green peppers & green chillies & a hot & highly flavoured texture
Fairly Hot
£7.20
Jalfrezi Prawn
Cooked with onions, fresh green peppers & green chillies & a hot & highly flavoured texture
Fairly Hot
£7.30
Jalfrezi Chicken Tikka
Cooked with onions, fresh green peppers & green chillies & a hot & highly flavoured texture
Fairly Hot
£7.65
Jalfrezi Lamb
Cooked with onions, fresh green peppers & green chillies & a hot & highly flavoured texture
Fairly Hot
£7.80
Jalfrezi Mixed
Cooked with onions, fresh green peppers & green chillies & a hot & highly flavoured texture
Fairly Hot
£8.40
Jalfrezi Lamb Tikka
Cooked with onions, fresh green peppers & green chillies & a hot & highly flavoured texture
Fairly Hot
£8.50
Jalfrezi Tandoori Mixed
Cooked with onions, fresh green peppers & green chillies & a hot & highly flavoured texture
Fairly Hot
£8.70
Jalfrezi King Prawn
Cooked with onions, fresh green peppers & green chillies & a hot & highly flavoured texture
Fairly Hot
£11.00
Chilli Masala Vegetable
Cooked with special masala sauce with green chillies
Fairly hot
£6.70
Chilli Masala Chicken
Cooked with special masala sauce with green chillies
Fairly hot
£6.85
Chilli Masala Keema
Cooked with special masala sauce with green chillies
Fairly hot
£7.20
Chilli Masala Prawn
Cooked with special masala sauce with green chillies
Fairly hot
£7.30
Chilli Masala Chicken Tikka
Cooked with special masala sauce with green chillies
Fairly hot
£7.65
Chilli Masala Lamb
Cooked with special masala sauce with green chillies
Fairly hot
£7.80
Chilli Masala Mixed
Cooked with special masala sauce with green chillies
Fairly hot
£8.40
Chilli Masala Lamb Tikka
Cooked with special masala sauce with green chillies
Fairly hot
£8.50
Chilli Masala Tandoori Mixed
Cooked with special masala sauce with green chillies
Fairly hot
£8.70
Chilli Masala King Prawn
Cooked with special masala sauce with green chillies
Fairly hot
£11.00
Tandoori Chicken Masala
Off the bone
£7.75
Chicken Tikka Garlic Masala
£8.20
Tandoori Mixed Masala
Chicken tikka, lamb tikka & seekh kebab
£8.70
Korma Vegetable
A delicate proportion of coconut, ground almond & fresh cream go into this to create a very mild but rich creamy taste
Very mild
£6.50
Korma Chicken
A delicate proportion of coconut, ground almond & fresh cream go into this to create a very mild but rich creamy taste
Very mild
£6.60
Korma Keema
A delicate proportion of coconut, ground almond & fresh cream go into this to create a very mild but rich creamy taste
Very mild
£7.00
Korma Prawn
A delicate proportion of coconut, ground almond & fresh cream go into this to create a very mild but rich creamy taste
Very mild
£7.00
Korma Chicken Tikka
A delicate proportion of coconut, ground almond & fresh cream go into this to create a very mild but rich creamy taste
Very mild
£7.40
Korma Lamb
A delicate proportion of coconut, ground almond & fresh cream go into this to create a very mild but rich creamy taste
Very mild
£7.50
Korma Mixed
A delicate proportion of coconut, ground almond & fresh cream go into this to create a very mild but rich creamy taste
Very mild
£7.85
Korma Lamb Tikka
A delicate proportion of coconut, ground almond & fresh cream go into this to create a very mild but rich creamy taste
Very mild
£8.20
Korma Tandoori Mixed
A delicate proportion of coconut, ground almond & fresh cream go into this to create a very mild but rich creamy taste
Very mild
£8.50
Korma King Prawn
A delicate proportion of coconut, ground almond & fresh cream go into this to create a very mild but rich creamy taste
Very mild
£11.00
Vindaloo Vegetable
Cooked with garlic, lemon juice, ginger, chilli powder & tomato puri, a very very hot dish
Very Hot
£6.50
Vindaloo Chicken
Cooked with garlic, lemon juice, ginger, chilli powder & tomato puri, a very very hot dish
Very Hot
£6.60
Vindaloo Keema
Cooked with garlic, lemon juice, ginger, chilli powder & tomato puri, a very very hot dish
Very Hot
£7.00
Vindaloo Prawn
Cooked with garlic, lemon juice, ginger, chilli powder & tomato puri, a very very hot dish
Very Hot
£7.00
Vindaloo Chicken Tikka
Cooked with garlic, lemon juice, ginger, chilli powder & tomato puri, a very very hot dish
Very Hot
£7.40
Vindaloo Lamb
Cooked with garlic, lemon juice, ginger, chilli powder & tomato puri, a very very hot dish
Very Hot
£7.50
Vindaloo Mixed
Cooked with garlic, lemon juice, ginger, chilli powder & tomato puri, a very very hot dish
Very Hot
£7.85
Vindaloo Lamb Tikka
Cooked with garlic, lemon juice, ginger, chilli powder & tomato puri, a very very hot dish
Very Hot
£8.20
Vindaloo Tandoori Mixed
Cooked with garlic, lemon juice, ginger, chilli powder & tomato puri, a very very hot dish
Very Hot
£8.50
Vindaloo King Prawn
Cooked with garlic, lemon juice, ginger, chilli powder & tomato puri, a very very hot dish
Very Hot
£11.00
Madras Vegetable
A South Indian dish fairly hot & highly flavoured with garlic, ginger, coriander, tomato puri & lemon juice
Hot
£6.50
Madras Chicken
A South Indian dish fairly hot & highly flavoured with garlic, ginger, coriander, tomato puri & lemon juice
Hot
£6.60
Madras Keema
A South Indian dish fairly hot & highly flavoured with garlic, ginger, coriander, tomato puri & lemon juice
Hot
£7.00
Madras Prawn
A South Indian dish fairly hot & highly flavoured with garlic, ginger, coriander, tomato puri & lemon juice
Hot
£7.00
Madras Chicken Tikka
A South Indian dish fairly hot & highly flavoured with garlic, ginger, coriander, tomato puri & lemon juice
Hot
£7.40
Madras Lamb
A South Indian dish fairly hot & highly flavoured with garlic, ginger, coriander, tomato puri & lemon juice
Hot
£7.50
Madras Lamb Tikka
A South Indian dish fairly hot & highly flavoured with garlic, ginger, coriander, tomato puri & lemon juice
Hot
£7.50
Madras Mixed
A South Indian dish fairly hot & highly flavoured with garlic, ginger, coriander, tomato puri & lemon juice
Hot
£7.85
Madras Tandoori Mixed
A South Indian dish fairly hot & highly flavoured with garlic, ginger, coriander, tomato puri & lemon juice
Hot
£8.50
Madras King Prawn
A South Indian dish fairly hot & highly flavoured with garlic, ginger, coriander, tomato puri & lemon juice
Hot
£11.00
Rogan Josh Vegetable
Cooked with tomato, pimentos & onions fried with a spicy oil
Medium
£6.50
Rogan Josh Chicken
Cooked with tomato, pimentos & onions fried with a spicy oil
Medium
£6.60
Rogan Josh Keema
Cooked with tomato, pimentos & onions fried with a spicy oil
Medium
£7.00
Rogan Josh Prawn
Cooked with tomato, pimentos & onions fried with a spicy oil
Medium
£7.00
Rogan Josh Chicken Tikka
Cooked with tomato, pimentos & onions fried with a spicy oil
Medium
£7.40
Rogan Josh Lamb
Cooked with tomato, pimentos & onions fried with a spicy oil
Medium
£7.50
Rogan Josh Mixed
Cooked with tomato, pimentos & onions fried with a spicy oil
Medium
£7.85
Rogan Josh Lamb Tikka
Cooked with tomato, pimentos & onions fried with a spicy oil
Medium
£8.20
Rogan Josh Tandoori Mixed
Cooked with tomato, pimentos & onions fried with a spicy oil
Medium
£8.50
Rogan Josh King Prawn
Cooked with tomato, pimentos & onions fried with a spicy oil
Medium
£11.00
Dupiaza Vegetable
Cooked with green pepper, onions, coriander, cinnamon, bay leaf & cardamom to give this dish an aromatic flavour
Medium
£6.50
Dupiaza Chicken
Cooked with green pepper, onions, coriander, cinnamon, bay leaf & cardamom to give this dish an aromatic flavour
Medium
£6.60
Dupiaza Keema
Cooked with green pepper, onions, coriander, cinnamon, bay leaf & cardamom to give this dish an aromatic flavour
Medium
£7.00
Dupiaza Prawn
Cooked with green pepper, onions, coriander, cinnamon, bay leaf & cardamom to give this dish an aromatic flavour
Medium
£7.00
Dupiaza Chicken Tikka
Cooked with green pepper, onions, coriander, cinnamon, bay leaf & cardamom to give this dish an aromatic flavour
Medium
£7.40
Dupiaza Lamb
Cooked with green pepper, onions, coriander, cinnamon, bay leaf & cardamom to give this dish an aromatic flavour
Medium
£7.50
Dupiaza Mixed
Cooked with green pepper, onions, coriander, cinnamon, bay leaf & cardamom to give this dish an aromatic flavour
Medium
£7.85
Dupiaza Lamb Tikka
Cooked with green pepper, onions, coriander, cinnamon, bay leaf & cardamom to give this dish an aromatic flavour
Medium
£8.20
Dupiaza Tandoori Mixed
Cooked with green pepper, onions, coriander, cinnamon, bay leaf & cardamom to give this dish an aromatic flavour
Medium
£8.50
Dupiaza King Prawn
Cooked with green pepper, onions, coriander, cinnamon, bay leaf & cardamom to give this dish an aromatic flavour
Medium
£11.00
Samber Vegetable
A hot & spicy dish based upon the use of lentils with fresh lemon added to obtain a sharp & distinctive flavour
Fairly Hot
£6.50
Samber Chicken
A hot & spicy dish based upon the use of lentils with fresh lemon added to obtain a sharp & distinctive flavour
Fairly Hot
£6.60
Samber Keema
A hot & spicy dish based upon the use of lentils with fresh lemon added to obtain a sharp & distinctive flavour
Fairly Hot
£7.00
Samber Prawn
A hot & spicy dish based upon the use of lentils with fresh lemon added to obtain a sharp & distinctive flavour
Fairly Hot
£7.00
Samber Chicken Tikka
A hot & spicy dish based upon the use of lentils with fresh lemon added to obtain a sharp & distinctive flavour
Fairly Hot
£7.40
Samber Lamb
A hot & spicy dish based upon the use of lentils with fresh lemon added to obtain a sharp & distinctive flavour
Fairly Hot
£7.50
Samber Mixed
A hot & spicy dish based upon the use of lentils with fresh lemon added to obtain a sharp & distinctive flavour
Fairly Hot
£7.85
Samber Lamb Tikka
A hot & spicy dish based upon the use of lentils with fresh lemon added to obtain a sharp & distinctive flavour
Fairly Hot
£8.20
Samber Tandoori Mixed
A hot & spicy dish based upon the use of lentils with fresh lemon added to obtain a sharp & distinctive flavour
Fairly Hot
£8.50
Samber King Prawn
A hot & spicy dish based upon the use of lentils with fresh lemon added to obtain a sharp & distinctive flavour
Fairly Hot
£11.00
Pathia Vegetable
Specially cooked with oriental spices & herbs to archive a hot, sweet & sour taste dish
Fairly Hot
£6.50
Pathia Chicken
Specially cooked with oriental spices & herbs to archive a hot, sweet & sour taste dish
Fairly Hot
£6.60
Pathia Keema
Specially cooked with oriental spices & herbs to archive a hot, sweet & sour taste dish
Fairly Hot
£7.00
Pathia Prawn
Specially cooked with oriental spices & herbs to archive a hot, sweet & sour taste dish
Fairly Hot
£7.00
Pathia Chicken Tikka
Specially cooked with oriental spices & herbs to archive a hot, sweet & sour taste dish
Fairly Hot
£7.40
Pathia Lamb
Specially cooked with oriental spices & herbs to archive a hot, sweet & sour taste dish
Fairly Hot
£7.50
Pathia Mixed
Specially cooked with oriental spices & herbs to archive a hot, sweet & sour taste dish
Fairly Hot
£7.85
Pathia Lamb Tikka
Specially cooked with oriental spices & herbs to archive a hot, sweet & sour taste dish
Fairly Hot
£8.20
Pathia Tandoori Mixed
Specially cooked with oriental spices & herbs to archive a hot, sweet & sour taste dish
Fairly Hot
£8.50
Pathia King Prawn
Specially cooked with oriental spices & herbs to archive a hot, sweet & sour taste dish
Fairly Hot
£11.00
Dhansak Vegetable
Cooked in spiced oil with garlic, pineapple & lentils, dhansak is a fast gaining popularity
Medium
£6.50
Dhansak Chicken
Cooked in spiced oil with garlic, pineapple & lentils, dhansak is a fast gaining popularity
Medium
£6.60
Dhansak Keema
Cooked in spiced oil with garlic, pineapple & lentils, dhansak is a fast gaining popularity
Medium
£7.00
Dhansak Prawn
Cooked in spiced oil with garlic, pineapple & lentils, dhansak is a fast gaining popularity
Medium
£7.00
Dhansak Chicken Tikka
Cooked in spiced oil with garlic, pineapple & lentils, dhansak is a fast gaining popularity
Medium
£7.40
Dhansak Lamb
Cooked in spiced oil with garlic, pineapple & lentils, dhansak is a fast gaining popularity
Medium
£7.50
Dhansak Mixed
Cooked in spiced oil with garlic, pineapple & lentils, dhansak is a fast gaining popularity
Medium
£7.85
Dhansak Lamb Tikka
Cooked in spiced oil with garlic, pineapple & lentils, dhansak is a fast gaining popularity
Medium
£8.20
Dhansak Tandoori Mixed
Cooked in spiced oil with garlic, pineapple & lentils, dhansak is a fast gaining popularity
Medium
£8.50
Dhansak King Prawn
Cooked in spiced oil with garlic, pineapple & lentils, dhansak is a fast gaining popularity
Medium
£11.00
Plain Curry Vegetable
South Indian dish cooked with fresh spices & coriander
Medium
£6.50
Plain Curry Chicken
South Indian dish cooked with fresh spices & coriander
Medium
£6.60
Plain Curry Keema
South Indian dish cooked with fresh spices & coriander
Medium
£7.00
Plain Curry Prawn
South Indian dish cooked with fresh spices & coriander
Medium
£7.00
Plain Curry Chicken Tikka
South Indian dish cooked with fresh spices & coriander
Medium
£7.40
Plain Curry Lamb
South Indian dish cooked with fresh spices & coriander
Medium
£7.50
Plain Curry Mixed
South Indian dish cooked with fresh spices & coriander
Medium
£7.85
Plain Curry Lamb Tikka
South Indian dish cooked with fresh spices & coriander
Medium
£8.20
Plain Curry Tandoori Mixed
South Indian dish cooked with fresh spices & coriander
Medium
£8.50
Plain Curry King Prawn
South Indian dish cooked with fresh spices & coriander
Medium
£11.00
Bhuna Vegetable
A special blend of spices, tomatoes, fried & cooked together in a thick consistency
Medium
£6.50
Bhuna Chicken
A special blend of spices, tomatoes, fried & cooked together in a thick consistency
Medium
£6.60
Bhuna Keema
A special blend of spices, tomatoes, fried & cooked together in a thick consistency
Medium
£7.00
Bhuna Prawn
A special blend of spices, tomatoes, fried & cooked together in a thick consistency
Medium
£7.00
Bhuna Chicken Tikka
A special blend of spices, tomatoes, fried & cooked together in a thick consistency
Medium
£7.40
Bhuna Lamb
A special blend of spices, tomatoes, fried & cooked together in a thick consistency
Medium
£7.50
Bhuna Mixed
A special blend of spices, tomatoes, fried & cooked together in a thick consistency
Medium
£7.85
Bhuna Lamb Tikka
A special blend of spices, tomatoes, fried & cooked together in a thick consistency
Medium
£8.20
Bhuna Tandoori Mixed
A special blend of spices, tomatoes, fried & cooked together in a thick consistency
Medium
£8.50
Bhuna King Prawn
A special blend of spices, tomatoes, fried & cooked together in a thick consistency
Medium
£11.00
Biryani Vegetable
This dish is cooked using special basmati pilau rice flavoured with saffron in our own blend of light spices, served with an omelette & a curry sauce
Medium
£6.30
Biryani Keema
This dish is cooked using special basmati pilau rice flavoured with saffron in our own blend of light spices, served with an omelette & a curry sauce
Medium
£7.10
Biryani Chicken
This dish is cooked using special basmati pilau rice flavoured with saffron in our own blend of light spices, served with an omelette & a curry sauce
Medium
£7.65
Biryani Prawn
This dish is cooked using special basmati pilau rice flavoured with saffron in our own blend of light spices, served with an omelette & a curry sauce
Medium
£8.10
Biryani Chicken Tikka
This dish is cooked using special basmati pilau rice flavoured with saffron in our own blend of light spices, served with an omelette & a curry sauce
Medium
£8.20
Biryani Lamb
This dish is cooked using special basmati pilau rice flavoured with saffron in our own blend of light spices, served with an omelette & a curry sauce
Medium
£8.50
Biryani Mixed
This dish is cooked using special basmati pilau rice flavoured with saffron in our own blend of light spices, served with an omelette & a curry sauce
Medium
£8.50
Biryani Lamb Tikka
This dish is cooked using special basmati pilau rice flavoured with saffron in our own blend of light spices, served with an omelette & a curry sauce
Medium
£9.00
Biryani Tandoori Mixed
This dish is cooked using special basmati pilau rice flavoured with saffron in our own blend of light spices, served with an omelette & a curry sauce
Medium
£9.60
Biryani King Prawn
This dish is cooked using special basmati pilau rice flavoured with saffron in our own blend of light spices, served with an omelette & a curry sauce
Medium
£11.00
Garlic & Chilli Fried Rice
£3.05
Chicken Tikka Shashlik on Naan
£6.85
Lamb Tikka Shashlik on Naan
£8.00
Sheek Kebab Shashlik on Naan
£6.85
Mixed Kebab Shashlik on Naan
£7.40
Chicken Tikka on Nan Sandwich
£6.20
Lamb Tikka on Nan Sandwich
£7.50
Seekh Kebab on Nan Sandwich
£6.40
Mixed Kebab on Nan Sandwich
£7.30
Pineapple Fritters Regular
£2.70
Pineapple Fritters With Fresh Cream
£3.60
Banana Fritters With Fresh Cream
£3.60
Gulabjam
3 pcs
With fresh cream (Indian sweet)
£4.50
Vegetarian Set Meal For 2
Starter
2 Poppadoms
Onion & mango chutney
Onion bhaji
Vegetable samosa
Main Course
Any 2 vegetable curries
Side Dish
Bombay aloo
Pilau rice
Nan & chips
£24.75
Set Meal For 2
Starter
2 Poppadoms
Onion & mango chutney
Chicken tikka
Meat samosa
Main Course
Chicken tikka masala
Chicken balti
Side Dish
Bombay aloo
Pilau rice
Nan & chips
£28.50
Set Meal For 4
Starter
4 Poppadoms
Onion & mango chutney
Tandoori wings (5)
Onion bhaji
Chicken tikka
Seekh kebab
Main Course
Chicken tikka masala
Chicken balti
Prawn jalfrezi
Lamb madras
Side Dish
Vegetable bhaji
Bombay aloo
Boiled rice
Pilau rice
Nan
Garlic nan & chips
£53.85
Tandoori Set Meal For 2
Starter
2 Poppadoms
Onion & mango chutney
Lamb tikka
Seekh kebab
Main Course
Chicken tikka
Half tandoori chicken
Side Dish
Bombay aloo
Large curry sauce
Pilau rice & nan
£28.50
Contact Us
Find Us
313 East Prescot Road, Liverpool, L142DD
We deliver to
L11, L12, L13, L14, L15, L16, L25, L27, L28, L36, L4, L6, L7, L9